---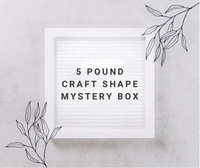 Are you a crafter? Do you need cool kid projects? 
You are in luck- We have what you need- This Craft shape box will have 5 POUNDS of various craft shapes ranging in size from 4"-6". 
You can choose from Holiday or Seasonal collections. We are even including a Wildcard option where anything goes!