---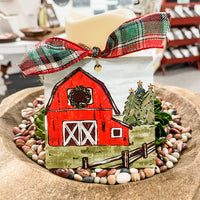 Capture the whimsy of the holiday season with the Adorable Barn Christmas Ornament, a delightful creation from Studio 29 Eleven's Artist Collection. This ornament features an adorable barn dressed out for Christmas, set in a charming field with a fence and surrounded by Christmas trees.
Meticulously designed, the ornament showcases the intricate details of the barn's festive decorations and the cozy winter scene. It is digitally printed on high-quality 1/4" MDF, ensuring a lasting and vibrant display.
Part of the Artist Collection by Studio 29 Eleven, this ornament is a testament to the artistic collaboration between our talented designers and our commitment to delivering exceptional quality. Each piece is handcrafted in the USA with care and precision.
Product Details:
Adorable barn Christmas ornament
Features a festive Christmas scene with a barn, field, fence, and Christmas trees
Measures approximately 4 inches square
Made from high-quality 1/4" thick MDF
Celebrate the holiday season with this charming, American-made Christmas ornament from our Artist Collection. Whether as a cherished addition to your own holiday decor or a delightful gift for loved ones, the Adorable Barn ornament brings the joy and warmth of Christmas to life.