---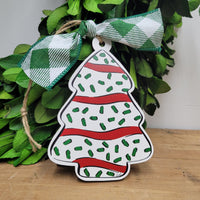 Indulge in a nostalgic treat with the Nostalgic Little Debbie Cake Christmas Ornament, a delightful addition to Studio 29 Eleven's Artist Collection. This ornament captures the essence of a beloved childhood favorite, the Little Debbie cake, in festive ornament form.
Meticulously designed, the ornament showcases the iconic imagery of the Little Debbie cake, complete with intricate details and vibrant colors. It comes with twine and a bow, creating a charming and whimsical display. Please note that the bow design may vary based on availability.
The ornament is made from durable 1/4" MDF, ensuring a long-lasting and cherished keepsake. Hang it on your tree or use it as a nostalgic decoration in your holiday displays.
Product Details:
Nostalgic Little Debbie cake ornament
Festive treat in ornament form
Comes with twine and bow (bow design may vary based on availability)
Measures approximately 5 inches tall at the tallest point
Made from high-quality 1/4" MDF
Celebrate the holiday season with this charming and nostalgic Nostalgic Little Debbie Cake ornament from our Artist Collection. It's the perfect gift for anyone with a sweet tooth and a fondness for cherished childhood memories.