---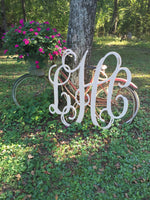 Our custom Three-Letter-Monogram is designed and created in-house by our family. This unique birch plywood wood monogram will add memories to your home, or if you choose to gift this, it will surely provide warmth to your recipient's home. The piece will be crafted from quality 1/2" birch plywood and if you choose a size below 12" the thickness will be 1/4". We prefer to create in birch because it provides strength and durability that will not be found in medium-density fiberboard [MDF]. You can select your piece to arrive raw—ready for you to paint or stain with your color choice, or we also offer the option to have your piece painted/finished distressed antique white or distressed matte black. Available sizes start at 6", however, larger and smaller sizes can be custom ordered via our contact us page.
Details:
Monograms are sized by the largest center letter to the outer edge of the letter or border where applicable. When ordering monograms please use ALL CAPS and make sure to list the letters in the order you would like them displayed. The large center letter identifies the family's surname.
Preview size and color is only representative of font style for preview purposes. Sizes and colors must be chosen. Preview image may be larger than the size you choose for better viewing of the font style.