---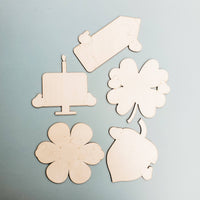 Introducing our DIY project kits. Do you love the look of awesome signs but need a little help with the design aspect of a project?
Me too!!! That's why we designed our new DIY project line. We take the guesswork out of the design process and make it easy for you to create something you're going to love. 
What's included:
Your choice of 1/8" Birch Interchangeable Seasonal Attachments: Celebration Cake, Pencil, Four Leaf Clover, Flower or Acorn.
These shapes are small and created to use with our DIY Gnome Kit. Larger sizes and additional fonts are available upon request.
**we also offer wholesale pricing for qualifying accounts**