---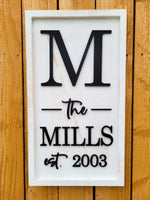 Celebrate the timeless bond of family with our Personalized Family Established Sign from our Heart and Home Collection. This custom sign measures 15"x27" and features your family surname initial, the family surname, and the date of establishment in a beautifully raised 3D design. Crafted with a white distressed finish, this sign exudes rustic charm and is sure to be a cherished piece in your home.
The Personalized Family Established Sign is a perfect way to showcase your family pride. It adds a personal touch and creates a focal point in any room. Whether displayed in your living room, entryway, or family gathering space, this sign makes a meaningful statement about the importance of family.
Each sign is meticulously crafted with attention to detail and care. Our skilled artisans ensure that every raised letter and number is precisely placed, creating a stunning visual effect. The white distressed finish adds a touch of vintage appeal, making it a versatile piece that complements various decor styles.
These beautiful signs are not only a great addition to your own home but also make thoughtful gifts for weddings, anniversaries, housewarmings, and other special occasions. Share the joy of family with your loved ones by presenting them with a personalized Family Established Sign.
Product Details:
Personalized Family Established Sign
Heart and Home Collection
White distressed finish for rustic charm
Raised 3D design with family surname initial, family surname, and date of establishment
Measures 15"x27" for an impressive display size
Meticulously crafted with attention to detail
Perfect for home decor and gift giving
Celebrate your family heritage and create a lasting symbol of love, unity, and togetherness with our Personalized Family Established Sign. It's not just a sign, but a meaningful representation of your family's story and a cherished keepsake for generations to come.