---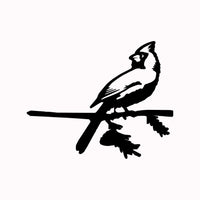 These metal birds can be used to decorate any space. Simply hammer the bird into a post, tree or other sturdy material to install. Made in the USA from sturdy 14g US steel. 
The unfinished piece will have a protective layer of mill scale (black oxide, magnetite) which makes the dark gray blue tint. While this provides some protection, the pieces will still rust and patina over time. If this patina is the look you desire, you may simply let the piece gain its natural patina.
If you wish to seal in the look of the raw steel you can always coat the piece with a clear spray to preserve it at any stage of patina. Each piece will have different natural patina and no two pieces are exactly alike.
We also offer the option to have your piece painted/finished in white, black, or clear.