---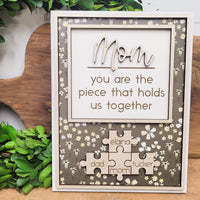 This Mother Puzzle Sign is the perfect gift for Mother's Day! Crafted from 1/2" wood, this sign features a layered design and durable 3D accents.
The printed floral design adds a perfect touch showcasing neutral florals on a background of mossy green. 
The name and puzzle pieces can be customized for your mom. Enter what you call "Mom" and choose the number of puzzle pieces (9 max) and then the name for each puzzle piece.
With its 10" x 13" dimensions and handcrafted quality it's sure to be a hit for any special occasion.