---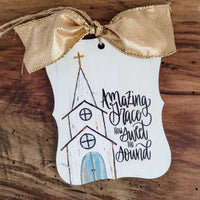 Experience the uplifting power of faith with the Amazing Grace Christmas Ornament, a captivating piece from Studio 29 Eleven's Artist Collection. This ornament showcases a beautiful church silhouette, accompanied by the inspiring words "Amazing Grace, how sweet the sound."
Meticulously designed, the ornament captures the essence of spiritual tranquility and reverence. The intricate details of the church and the delicate lettering are digitally printed on high-quality 1/4" MDF, ensuring a lasting and meaningful display.
Part of the Artist Collection by Studio 29 Eleven, this ornament is a testament to the artistic collaboration between our talented designers and our commitment to delivering exceptional quality. Each piece is handcrafted in the USA with care and precision.
Product Details:
Features a beautiful church silhouette with "Amazing Grace, how sweet the sound"
Measures approximately 4.5 inches
Made from high-quality 1/4" MDF
Celebrate the holiday season with this exquisite, American-made Christmas ornament from our Artist Collection. Whether as a cherished addition to your own holiday decor or a thoughtful gift for loved ones, the Amazing Grace ornament serves as a reminder of the enduring power of grace and faith.